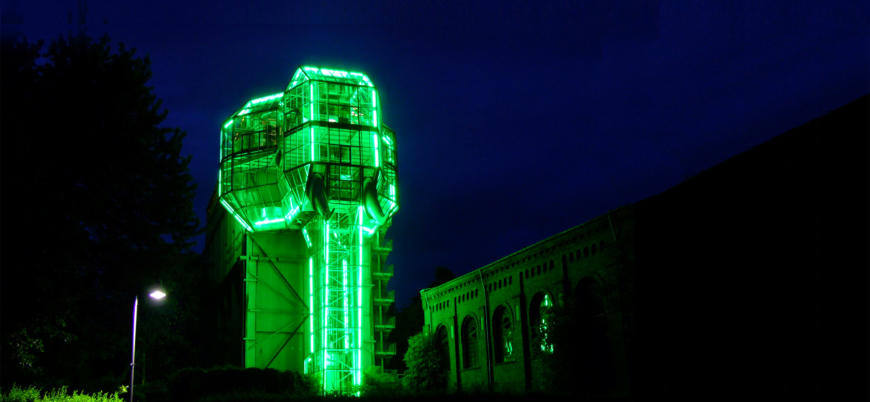 The Glass Elephant, a walk-in sculpture of glass and steel, was designed and built from the ruins of a former coal washing plant to celebrate the first State Garden Fair in North-Rhine-Westphalia. The measurements of the Elephant are 35 meters height, 54 meters length, and with a capacity of 20,000 cbms. The inside of this largest animal figure in the world has been transformed into a greenhouse and also exhibits 10 kinetic Rellecke objects on permanent display. In 2009 the lighting structure of the Glass Elephant was enhanced with new technology. The old fluorescent lamps were replaced with LED modules. The LED's are supposed to generate all colors of the rain-bow with a huge number of variations and to also produce entire light shows. The inauguration of the new installation was on the occasion of the festivities for the 60th birthday of the State North-Rhine-West-phalia with a light and sound show. Premiere of the especially com-posed music "Elephants delight" and delivered by musicians from "Crystal Silence" was further enhanced by façade climbers of "Climbix".
GartenDOM Oberhausen 1998

Video: Glass Elephant-Light-Show
Foto show plans + inside + details
Westfälischer Anzeiger Hamm 27th june2009:
10 000 visitors watched the light spectacle in the Elephant.
On the left, above the Elephant's right eye, a man dressed in white stood in the window. From below, only a phantomlike shadow was recognizable. The figure was swaying back and forth, repeating the process. To the delight of the audience, a few fireflies had already started their own show in the night sky around 11:00 pm. Finally – music. The elephant's trunk illuminated in a radiant white glow . Men dressed in white exited from the windows and scaled down on ropes swinging their green lit swords. Spontaneous applause. Now head, ears and trunk of the Glass Elephant change colors to accompany the mystical background music: Orange, yellow, green, red – sometimes slowly and then rapidly. Suddenly the explosion - from the back of the concrete animal rises a display of fireworks into the night sky. In concluding, the Elephant displays the colors of the State of North-Rhine-Westphalia – green, white and red. In the very late evening, approximately 10,000 visitors watched this one-half hour spectacle on the opening of the North-Rhine-Westphalia Fair in the Maxi Park.
GLASS ELEPHANT 1981 - 84
Maximilianpark Hamm / Germany
Design: Horst Rellecke

Video: Glass Elephant 3D Animation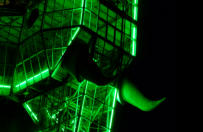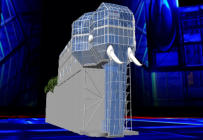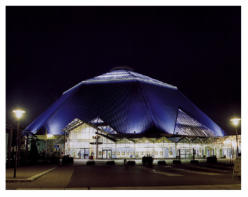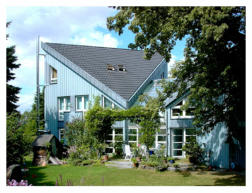 Houses in
Möhnesee
Soest
Hamm
Teneriffa